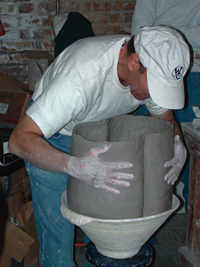 Peter Hessemer is an award winning sculptor & ceramicist. He uses clay's malleability to create dynamic objects which have organic forms and richly textured surfaces.
Peter's ceramic pieces are hand formed or wheel thrown and altered. The beautifully glazed surfaces complete the sensual and evocative aesthetic of his work.
Peter makes his sculptures and pottery from porcelain or stoneware clay. His pieces range in size from a few inches to several feet tall.